For Kunst@IHS, Curator Melissa Lumbroso invites artists at irregular intervals to create and present artworks in and for the spaces at Palais Strozzi. Artists are selected with the curatorial focus of facilitating synergies between the fields of research and artistic practice. The guiding principle is to highlight the institute's renown as a locus of interdisciplinary research and activities. In addition, the unique history of the institute as well as its historical location provide artists with the unique occasion to realize site-specific works.
---
The current Kunst@IHS exhibition features the artists Irena Eden and Stijn Lernout. At IHS, the artist duo surveyed and plotted the historic Palais Strozzi. Axes in the Salon are extrapolated and translated into overlapping triangular color planes in a large-scale frottage mural. In a pipeline installation further channels alternately consolidate and radiate from nodes with interstices reflecting the Institute's aspiration to provide policy-relevant evidence. The materials in use hint at Eden and Lernout's current exploration of economic and socio-political effects of mining natural resources.
The vernissage took place on September 18th.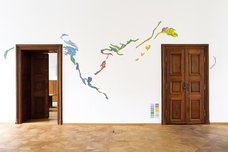 ---
---