The management of the IHS consists of the Scientific Director and the position of the General Secretary.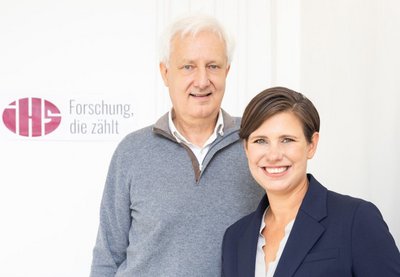 Director – Prof. em. Dr. DI. Klaus Neusser
As of May 2, 2022, Prof. em. Dr. DI. Klaus Neusser has been appointed Director of the Institute for Advanced Studies (IHS) on an interim basis. His research focuses on macroeconomics and time series analysis.
After studying technical mathematics with a minor in economics, Klaus Neusser received his doctorate from the Vienna University of Technology in the Technical Sciences (PhD) and habilitated at the University of Vienna in 1990 in Economic Theory and Economic Policy as well as in econometrics. From 1993 to 1994 Klaus Neusser was a full professor in Economics at the European University Viadrina in Frankfurt (Oder), Germany. From 1994 to 2019 he was a full professor of economics, in particular Econometrics and Macroeconomics at the University of Bern, Switzerland.
General Secretary – Mag. (FH) Julia Studencki
On 15.9.2022, Mag. (FH) Julia Studencki was appointed Secretary General of the Institute for Advanced Studies (IHS). Her activities include commercial management.
After studying business consulting at the University of Applied Sciences in Wiener Neustadt with a focus on management, organizational and human resources consulting as well as corporate accounting and auditing, Julia Studencki passed the tax consulting examination in 2006 and worked as a team leader with procuration at the former BDO Graz GmbH (now Rabel & Partner). From 2009 to 2015, Julia Studencki was head of accounting with power of attorney and, since 2016, head of human resources at the non-university research company acib GmbH. Julia Studencki teaches part-time at the Joanneum University of Applied Sciences in Graz and Kapfenberg.
Assistants to the management
For appointments with the management please call +43 1 59991 0 or send an email to office@ihs.ac.at.