Maria Köpping, MA, MSc.
Junior Researcher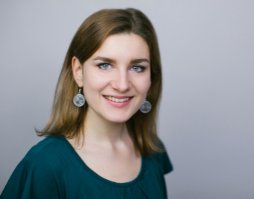 Maria holds degrees in Socioeconomics (MSc, 2020), Political Science (MA, 2019) and Journalism and Communication Science (Bakk.phil, 2016) and is currently enrolled as a PhD student in Sociology at University of Vienna. She joined IHS as a student assistant in 2018 and has been a researcher since 2020. Her research interests include educational trajectories, school-to-work transitions and vocational education and training as well as the integration of vulnerable groups and migrants.

Wiesböck, L., Köpping, M. (2023): CAREDEMIA: Berufliche Herausforderungen von Early Career Wissenschaftlerinnen mit betreuungspflichtigen Kindern in der COVID19-Pandemie. [Research Report].

Köpping M., Leitner A. (2022): Lerneffekte aus dem Distance Schooling: Strategien zur Vermeidung wachsender Ungleichheit an Wiener Mittelschulen und AHS aus Perspektive der Lehrpersonen. In: Österreichische Zeitschrift für Soziologie 47, 113-131.

Dibiasi A., Binder D., Köpping M., Zaussinger S. (2021): Geschlechtersegregation MINT: Expertise I. Identifikation von Problemen und Handlungsfeldern auf Basis einer Daten- und Literaturanalyse. [Research Report].

Köpping M. (2021): Übernächster Halt – Lehre? Eine qualitative Analyse des Zugangs junger Flüchtlinge zur betrieblichen Lehrausbildung. In: Österreichischer Integrationsfonds: Forschungspreis Integration, Wien.

Steiner M., Köpping M., Leitner A., Pessl G., Lassnig L. (2021): Lehren und Lernen unter Pandemiebedingungen. Was tun, damit aus der Gesundheits- nicht auch eine Bildungskrise wird? [Research Report].

Steiner M., Pessl G., Leitner A., Davoine T., Forstner S., Juen I., Köpping M., Sticker A., Litschel V., Löffler R. (2019): AusBildung bis 18. Wissenschaftliche Begleitung der Implementierung und Umsetzung des Ausbildungspflichtgesetzes. [Research Report].