IHS SCIENCE SLAM
Your chance for a somewhat different scientific presentation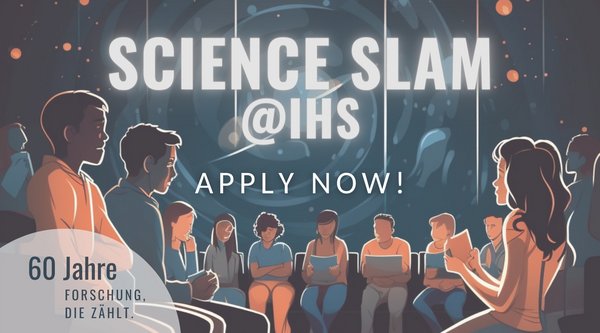 As part of its 60th anniversary, the Institute for Advanced Studies (IHS) invites young researchers from the Institute as well as students of economics and social sciences from universities and universities of applied sciences to apply for the first IHS Science Slam, which will take place on 7 September 2023. The total prize money is 450 euros and additionally, aach submission presented on stage will receive a 30-euro book voucher from Facultas. Entries are possible until 16 July.
Inspire the audience with your research work by presenting exciting results of your project, paper or thesis in a creative format on stage in the Brunnenhof of Palais Strozzi. There are no limits to your creativity, except that "classical" presentations are not desired.
An IHS committee will select ten finalists from the submissions to compete in the Science Slam. On site, the audience decides who wins by voting. After the presentations and the award ceremony, the afternoon will end with drinks and snacks.
Open Call
Send in your application by 16 July to mediarelations@ihs.ac.at. Please include the topic of your presentation, the framework (thesis, project, paper), your university and degree programme (subject area, stage of study) and a short description of your presentation concept (maximum 2 pages A4).
You can find more details here
We look forward to many creative submissions!