Europa - die beste Idee, die wir je hatten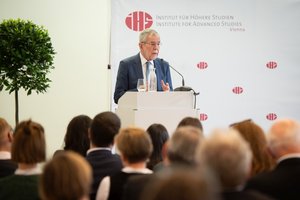 Europa war das Thema der Heinrich Neisser Lecture 2019 am IHS, zu Gast war ein prominenter Vortragender: Bundespräsident Alexander Van der Bellen. Niemand, so IHS Direktor Martin Kocher in seinem einleitenden Statement, sei berufener zu dem Thema zu sprechen als einer, der so für eine evidenzbasierte Politik stehe – dafür, dass eine politische Position mit Fakten vereinbart werden kann.
Van der Bellens Vortrag begann mit einem programmatischen Statement: "Ein vereintes Europa ist die beste Idee, die wir je hatten." Daran ändern die aktuellen Herausforderungen an der EU nichts. Brexit war gewiss "eine tragische Fehlentscheidung jener, die am Referendum teilgenommen haben" und "wirtschaftspolitisch ein Unsinn", aber nicht unbedingt irrational: "Der Wahlkampf im Vorfeld des Referendums hat gezeigt, wie anfällig wir für Fake Information sind." Auch Martin Kocher sah in seinem einleitenden Statement ein Europa, "das sich verstiegen hat - nicht unähnlich einer Klettertour in den Tiroler Bergen - man weiß nicht vor oder zurück." Bundespräsident Van der Bellen selbst betonte, dass die EU aus gleichberechtigten Partnern bestehe. "Als Mitglied einer großen Gemeinschaft haben wir auf globaler Ebene mehr Einfluss als früher mit der europäischen Kleinstaaterei".
Für die Zukunft Europas sieht Van der Bellen alle BewohnerInnen der Union in der Pflicht: "Ich hoffe, nicht eines Tages sagen zu müssen: Wir hatten ein vereinigtes Europa - nur leider zu wenig Europäer", und weiter: "Es braucht mehr Lust, mehr Kraft, mehr Fantasie." Direkt im Publikum damit angesprochen wurden neben dem Namensgeber der Lecture-Reihe und IHS Ehrenpräsidenten Heinrich Neisser weiters IHS Präsident Franz Fischler, IHS Vizepräsident Caspar Einem, die Bezirksvorsteherin der Josefstadt, Veronika Mickl-Göttfert, der ehem. Präsident der Nationalbank, Claus Raidl und der Direktor des Wifo, Christoph Badelt. Auch Schülerinnen und Schüler aus der Neuen Mittelschule Pfeilgasse und des Piaristengymnasiums folgten den Ausführungen des Bundespräsidenten gespannt. An sie wendete sich Van der Bellen sich explizit, als er seine Bewunderung für die "Fridays for Future" Bewegung erklärte. "Ich werde das Allerschlimmste nicht mehr erleben. Ihr aber müsst Euch engagieren - auf allen Ebenen."
Zu den bevorstehenden Europawahlen äußerte sich Van der Bellen "gemäßigt optimistisch", wie er selbst sagte: "Hingehen, ankreuzen, das ist ja nicht so schwer." Und auf die Frage, wie das Friedensprojekt Europa in Zukunft besser verkauft werden könnte, gab er sich programmatisch. "Ich sehe oft eine Rhetorik des Ausschließens. Aber Europa ist eine bemerkenswerte Innovation auch deshalb, weil wir mehrere Identitäten annehmen können, die uns stärken, nicht schwächen. Wir sind ein Dreiviertelkontinent des "und". Das ist einmalig."
---
About this lecture series
The Heinrich Neisser Lecture series is an annual lectures to discuss issues with public significance arising from research in economics and social sciences. It is held to honor Prof. Dr. Heinrich Neisser. Heinrich Neisser has been a successful politician, holding important positions in the Austrian government. He also has been, and continues to be, an esteemed social scientist, having taught at various universities and published numerous books and articles. For many years, Heinrich Neisser also was the President of the IHS, therefore playing a decisive role in shaping the institute's development.