The Joint Economic Forecast (Gemeinschaftsdiagnose) aims at analyzing and forecasting the development of the world economy and of the German economy, and to give policy recommendations. The report contains a detailed forecast for the current and for the next year, which is also the basis of a medium term projection for the next five years. Furthermore, each report includes a special study on an issue relevant for ongoing discussions. The Joint Economic Forecast is published twice a year in spring and in autumn. It serves as an input into the projections of the German government.
For the Joint Economic forecast, the Institute for Advanced Studies is the partner of the RWI - Leibniz-Institute for Economic Research.
Currently the Joint Economic Forecast is prepared by:
RWI - Leibniz-Institute for Economic Research in cooperation with Institut für Höhere Studien – Institute for Advanced Studies (IHS)
Kiel Institute for the World Economy
Ifo Institute – Leibniz Institute for Economic Research at the University of Munich in cooperation with KOF Swiss Economic Institute, ETH Zurich
Halle Institute for Economic Research (IWH) – Member of the Leibniz Association
German Institute for Economic Research (DIW Berlin Deutsches Institut für Wirtschaftsforschung)
---
The next presentation of the joint economic forecast will take place on October 14.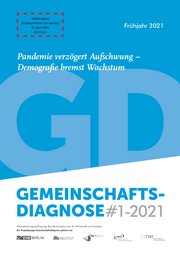 Joint Economic Forecast Spring 2021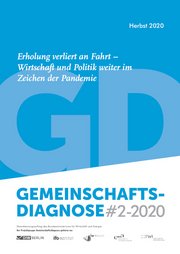 Joint Economic Forecast Fall 2020
Joint Economic Forecast
Spring 2016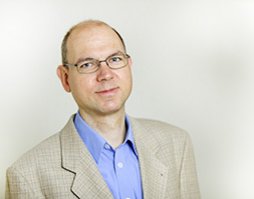 Weyerstrass Klaus
Senior Researcher, Sprecher für Internationale Konjunktur und Außenwirtschaft