IHS Economic Forecasts for the current and following year are published quarterly: they represent a key output of the institute that is well-known among the general public. Further products include the annual Medium-term Forecast covering the subsequent five years and regional forecasts for some federal provinces.
The next presentation of the economic forecast of the Austrian economy will take place on Oct 5, 2018 at WIFO.
Christoph Badelt, WIFO and Martin Kocher, IHS will answer questions of the journalists.
Summaries of the IHS Economics Forecasts in German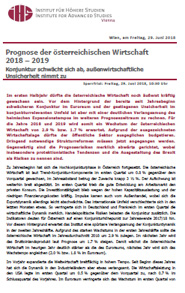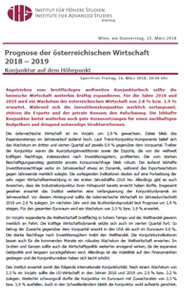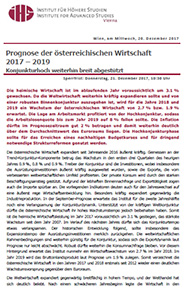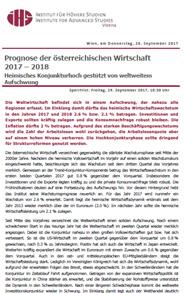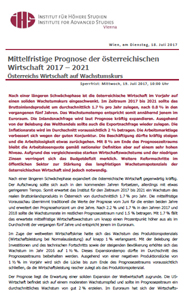 Austrian Economy on growth path
Medium-term Economic Forecast for Austria 2017 – 2021
July 2017
Link to German version (pdf)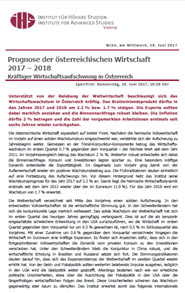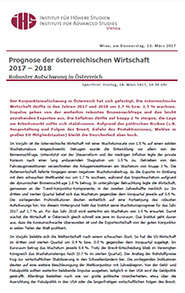 Robuster Aufschwung in Österreich
Prognose der österreichischen Wirtschaft 2017 - 2018
Frühling 2017
Link zur Kurzfassung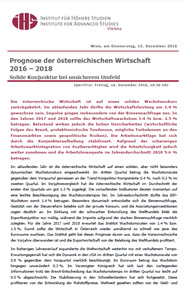 Solide Konjunktur bei unsicherem Umfeld
Prognose der österreichischen Wirtschaft 2016 - 2017
Winter 2016
Link zur Kurzfassung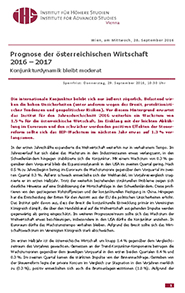 Konjunkturdynamik bleibt moderat
Prognose der österreichischen Wirtschaft 2016 - 2017
Herbst 2016
Link zur Kurzfassung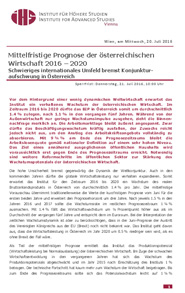 Schwieriges internationales Umfeld bremst Konjunkturaufschwung in Österreich
Mittelfristige Prognose der österreichischen Wirtschaft 2016 – 2020
Juli 2016
Link zur Kurzfassung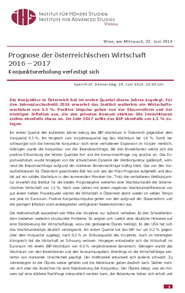 Konjunkturerholung verfestigt sich
Prognose der österreichischen Wirtschaft 2016 - 2017
Sommer 2016
Link zur Kurzfassung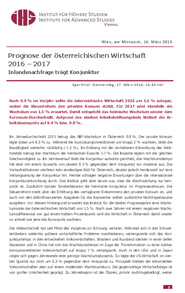 Inlandsnachfrage trägt Konjunktur
Prognose der österreichischen Wirtschaft 2016 - 2017
Frühling 2016
Link zur Kurzfassung