International Workshop 'Transformation of the sphere of work: From the colonization of work to sustainable work?'
08 Jun 2016
Katrin Auel - Keynote Speaker at Centre for Parliamentary History, Radboud University Nijmegen
Katrin Auel will deliver a Keynote speech on 'National parliaments in the EU and the logic of appropriateness' at the New Political History and European Integration: 5th international workshop
taking place on July 1st, 2016 at the Centre for Parliamentary History, Radboud University Nijmegen, Netherlands.
07 Jun 2016
HealthEcon - New Publication
Lecture by Erich Griessler
Erich Griessler on 'Responsible Research and Innovation' at the Scientific Colloquium on the occasion of retirement of Prof. Dr. Joachim Schiemann. Agricultural biotechnology – risk/safety assessment, impact assessment and importance for a bio-based economy. Palais Salfeldt, Quedlinburg, Germany, 22.-23.06.2016.
22 Jun 2016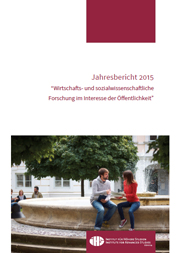 03 Jun 2016
IHS Policy Brief May 2016
25 May 2016
Calendar
| Mon | Tue | Wed | Thu | Fri | Sat | Sun |
| --- | --- | --- | --- | --- | --- | --- |