Martin Kocher Appointed Professor in Behavioral Economics at University of Vienna
Beginning this semester, IHS director Martin Kocher was appointed professor in behavioral economics with focus on Austrian economic policy. While his focus will continue to be directing the IHS, Kocher will establish close cooperation with the University of Vienna. In this respect, he will discuss key economic issues for Austria´s next government on Monday, December 4, 2017, at 6:15 pm at the University of Vienna.
Links:
Registration
01 Dec 2017
New Publication about Effects of Remittances on Public Finance
Benjamin Bittschi from the Research Group Macroeconomics and Public Finance and his co-authors Zareh Asatryan and Philipp Dörrenberg from the ZEW Mannheim explored the effects of remittances of migrants on the public finances of their countries of origin. The article 'Remittances and public finances: Evidence from oil-price shocks' was published in the November issue of the Journal of Public Economics.
Links:
Article in the IHS Repository
Article on Elsevier's ScienceDirect

24 Nov 2017
Erich Griessler on Necessary Strategies for Knowledge and Technology Transfer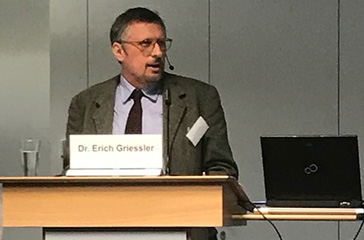 Erich Griessler facilitates a plenary discussion of senior representatives of German research organizations on 'The Future of Transfer: Which strategies are necessary?' at the 7th 'Transferwerkstatt. Wissens- und Technologietransfer der außeruniversitären Forschungseinrichtungen' organized by DLR Projektträger on November 17, 2017 in Bonn.
Links:
Website Transferwerkstatt
21 Nov 2017
Repair & Do-It-Yourself Urbanism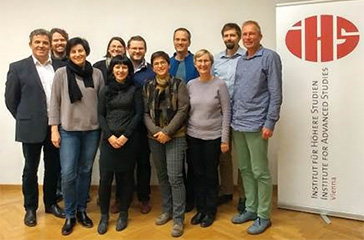 The Kick-Off Workshop of the Project 'Repair & Do-It-Yourself Urbanism' (R&DIY-U) took place at the IHS on November 9, 2017. The project, which is funded by the bmvit ('Stadt der Zukunft', 4th call) and which is coordinated by Michael Jonas, aims to analyze the transformative potential of Repair & Do-It-Yourself Urbanism with regard to a fundamental change of the existing non-sustainable handling of commodities in selected urban districts, their infrastructures and dominant business and private household practices. With a transdisciplinary R&D consortium that comprises a fundamental and applied research team (IHS), an intermediary organization ('die umweltberatung') as well as commercial and non-profit R&DIY-U practitioners (HausGeräteProfi, Sit-In, LORENZI, Recycling Kosmos, Wiener Hilfswerk), the proposed research project incorporates multiple perspectives and R&DIY-U practices.
Links:
Michael Jonas
17 Nov 2017
Cooperation agreement IHS and National Analytical Center, Nazarbayev Univ, Kasakhstan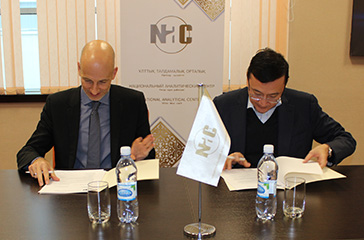 On November 3, 2017, IHS Director Martin Kocher and Yerbol Orynbayev, Chairman of the National Analytical Center (NAC) at Nazarbayev University in Astana, Kazakhstan, signed a cooperation agreement. Until the end of 2018, IHS will support the NAC in building macroeconomic modeling expertise and in creating macroeconomic models.
13 Nov 2017
Current Job Opening at the IHS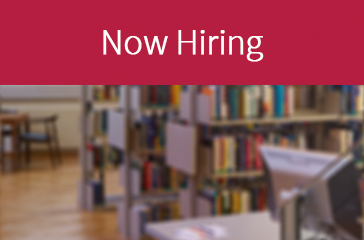 Economist
The recently established Competence Center 'Insight Austria' is looking for an economist in the field of behavioral economics.
For more details please find the job ad here (pdf).
14 Dec 2017
Thomas Czypionka on Current Health Policy
28 Nov 2017
Robert Braun at Indialics Conference in New Delhi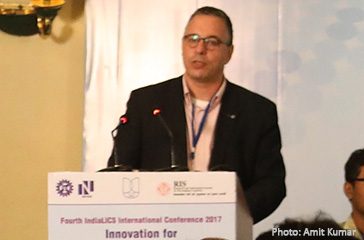 Robert Braun from Techno Science and Societal Transformation has been the keynote speaker on the annual Indialics Conference on Innovation and Sustainable development. Robert spoke about the global aspects of responsible research and innovation (RRI) as well as introduced the major H2020 project NewhoRRIzon coordinated by IHS.
Links:
H2020 project NewhoRRIzon
Indialics Conference Website
Robert Braun at Conference on Mobile Utopia Themes
Robert Braun presented his paper 'Utopia, dystopia, monotopia and kinotopia: Power discourses of the European Union on the future of automobility' on the plenary session of the annual Cosmobilities conference at Lancaster University. The conference was a joint effort of the global Cosmobilities network and T2M, the organization of transportation and mobilities researchers.
Links:
Conference Website
28 Nov 2017
Katrin Auel at the COSAC Plenary Meeting in Tallinn
Katrin Auel will hold a keynote speech at the LVIII COSAC Plenary Meeting in the session 'Bringing European Union closer to its citizens – what are the best practices of the national parliaments?'. The meeting will take place in Tallinn, 26–28 November, 2017.
The Plenary Meeting of the Conference of Parliamentary Committees for Union Affairs of Parliaments of the European Union (COSAC) brings together the delegations of the European Union Affairs Committees of the national parliaments of the Member States. The COSAC Plenary Meeting is held bi-annually, once during each presidency period.
Links:
COSAC
Parliamentary Dimension of the Estonian Presidency of the Council of the EU
24 Nov 2017
Thomas Czypionka at 'Back at Work' Panel Discussion
On Monday, December 11, Thomas Czypionka will be a panelist at a panel discussion 'Back at Work' on future perspectives on work and illness. The panel will be hosted by Alois Mock Institute. The event will take place at Haus der Österreichischen Lotterien.
Links:
Eventwebsite
Registration: veranstaltung(at)alois-mock-institut.at
21 Nov 2017
Annual Gathering of STS Austria & Lecture and Workshop on RRI and STS
The annual gathering of STS Austria includes a key note by Vincent Blok (Wageningen University) on 'The Good, the Bad and the Ugly: the Opportunities for Responsible Innovation in Industry'. Afterwards, prominent scholars, including Erich Griessler, will discuss 'RRI as an engaged practice'. December 14, 2017 at IHS, lecture from 2:30pm onwards.
Links:
STS Austria
Vincent Blok (Wageningen University)
RSVP: events(at)ihs.ac.at
17 Nov 2017
The next presentation of the economic forecast of the Austrian economy will take place on December 21, 2017 at 10:30 am at IHS.
Christoph Badelt, WIFO and Martin Kocher, IHS will answer questions of the journalists.
Link:
Economic forecast
Calendar
| Mon | Tue | Wed | Thu | Fri | Sat | Sun |
| --- | --- | --- | --- | --- | --- | --- |